proof-genealogy.com
Martha

M. Canaday

Birth Date:

June 18, 1848

Birth Location:

Illinois

Death Date:

June 25, 1873

Death Location:

Not known.

Burial:

Jones Cemetery (Beaver Creek)
Rural Papineau, Illinois
Parents
Father
Albert Canaday
(1810-?)
Mother
Mary (?)
(1809-?)
Marriage

Martha M. Canaday married Benjamin N. Powley
on March 18, 1867 in Iroquois County, Illinois.
Children (in birth order)
1
Benjamin A.
Powley
1870-1901
2
Albert
Powley
1873-?
?
Clyde N.
Powley
1876-1936
The first two children were born to Martha. Clyde may have been born to Martha or
Benjamin's second wife Sarah. Benjamin's wife is listed as "Martha" on the 1880 census.
The death date on Martha's gravestone may be incorrect.
Notes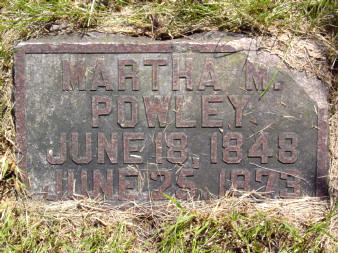 Sources