proof-genealogy.com
Genevieve

Mearl Eimen
Birth Date:

April 2, 1908

Birth Location:

Danforth, Illinois

Death Date:

March 8, 1966

Death Location:

Kankakee, Illinois

Burial:

Mount Calvary Cemetery
Kankakee, Illinois
Siblings (in birth order)

1
Blanche
Eimen
1903-
1990
2
Harold
Eimen
1905-
1975
3
Genevieve
Eimen
1908-
1966
4
Lucille
Eimen
1911-
1997
5
Glenn
Eimen
1912-
1979
6
Kenneth
Eimen
1915-
1979
7
Evelyn
Eimen
1920-
1972
8
Cecelia
Eimen
1922-
1922
9
Marilyn
Eimen
1923-
1926
Died in infancy.
Marriage
Genevieve Eimen married Peter Stevenson
on August 28, 1929, in Iroquois County, Illinois.

Peter and Genevieve on their wedding day.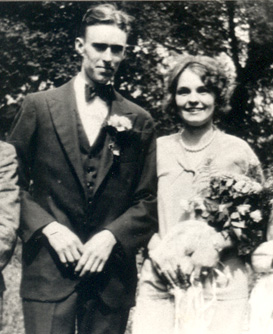 Children (in birth order)
1
Living Daughter

2
Living Daughter

3
Living Son

4
Living Son

Notes

Genevieve's obituary as it appeared in the
Kankakee Daily Journal, Kankakee, Illinois.

Genevieve is buried next to her husband
Peter Stevenson in the Mount Calvary
Cemetery in Kankakee, Illinois.

Peter and Genevieve as they
appeared in the mid-1960s.

Artifacts
Genevieve wore this frilly-skirted, lace-collared navy blue dress in the 1920's.
On the right: Genevieve with her sister Lucille.

Genevieve wore this light green dress on her wedding day.
On the left: Peter and Genevieve's wedding photo.