proof-genealogy.com
Johnathan

Griffin

Birth Date:

May 11, 1783

Birth Location:

North Carolina

Death Date:

March 21, 1851

Death Location:

Not known.

Burial:

Brown Hill Cemetery
Papineau Township, Iroquois County, Illinois
Parents
Father
Not known.
Mother
Not known.
Siblings (in birth order)
Not known.

Marriage

Johnathan Griffin married Sarah (?).

Sarah was born in Virginia in 1793.
Children (in birth order)
1
William H.
Griffin
1830-1878
2
Mary
Griffin
1833-?
Johnathan Griffin may have had other children besides those listed here.
Notes
In 1850, Johnathan Griffin is living with his wife
and two children in Iroquois County, Illinois.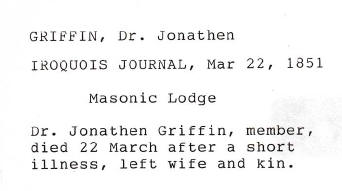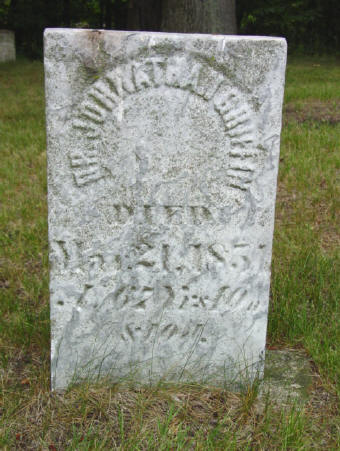 Sources