proof-genealogy.com
William

Henry Jones
"Henry"
Birth Date:

January 17, 1811

Birth Location:

Meigs County, Ohio

Death Date:

May 21, 1859

Death Location:

Iroquois County, Illinois

Burial:

Jones Cemetery (Beaver Creek)
Rural Papineau, Illinois
Siblings (in birth order)
1
Orphana
Jones
1808-?
2
Henry
Jones
1811-1859
3
Harriet
Jones
1813-1837
4
Phillip
Jones
1815-1838
5
Stephen
Jones
1817-1856
6
Charles W.
Jones
1820-1823
7
Jerusha
Jones
1822-1825
8
Silas
Jones
1824-1842
9
Elizabeth
Jones
1826-?
10
Mary
Jones
1828-1855
11
Sarah
Jones
1837-1839
Marriage
Henry Jones married Sarah Harter (or Hester)
on February 7, 1833 in Meigs County, Ohio.
After Sarah died, Henry Jones married Maria Sammons
on January 6, 1854 in Kankakee County, Illinois.
Seven Children with Sarah

1
William S.
Jones
1834-1911
2
Charles
Jones
1835-1855
3
Lovina
Jones
1837-1838
4
Philip
Jones
1839-1901
5
Harriet
Jones
1844-1890
6
Mary
Jones
1846-1847
7
Sarah E.
Jones
1851-1915

Two children with Maria

1
Infant
Jones
1854-1854
2
Henry C.
Jones
1856-?
Record indicate that Henry Jones lost a significant number of family members
in the "terrible scourge of cholera" that swept through the area in 1855. Only
two of his children have gravestones from this time: Charles and an unnamed
infant. Others that were lost may have been young children that did not
appear on a census, or perhaps Henry Jones's siblings (Stephen Jones was
among those who died at this time.)
Notes
Henry Jones came to Illinois from Ohio in 1835. He is considered the first pioneer settler of Papineau Township, Iroquois County, Illinois. The family members that came with him included his parents; his sister and brother-in-law, Jephtha and Orphana Hayman; three sisters -- Elizabeth, Mary, and Sarah; and two brothers, Stephen and Silas. It is not known where his brother Philip died in 1838.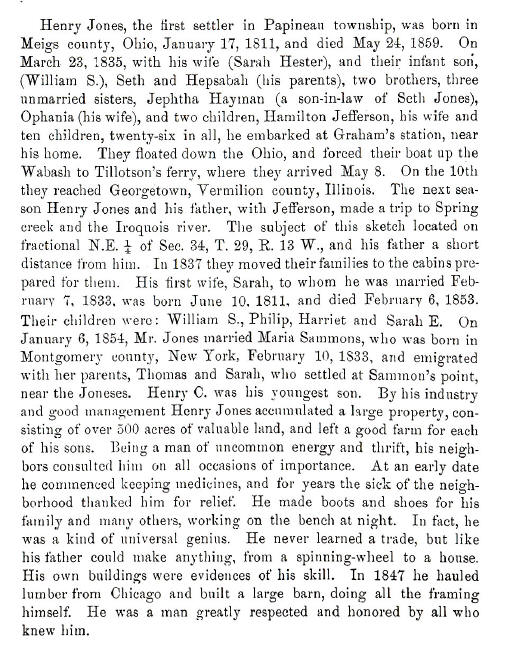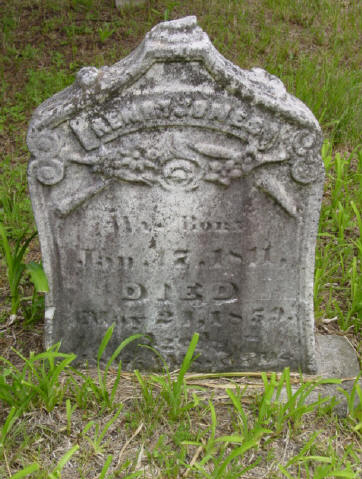 Sources
Descendants of Robert Chapman

History of Iroquois County