According to genealogist Wilman Davis, Jemima was known to bake a pie almost every day, and any caller had to have a piece of pie (usually mince meat or apple) and a cup of tea. Jemima did some of her ironing by folding her linens and sitting on them while she ate.
Her first name appeared with many different spelling variations; she signed her name on her second marriage certificate as "Jermina."
Paul Devenoges died on May 26, 1915, in St. Anne, Illinois, only six weeks after Jemima died. He was buried in Beaver Creek Cemetery.
This blurb appeared in the St. Anne news section
of the Kankakee Daily Republican in April 1915.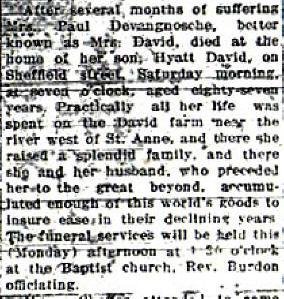 The following obituary was copied by Jemima's granddaughter,
Mabel Price Green, in a letter written on April 23, 1915 to her sister,
Laura Ethel Price. The obituary is believed to have been
taken from the St. Anne newspaper.
A Good Mother Gone to Her Rest
Jemima Mabee was born in Athol, in the District of Prince Edward, Holdeman County, Canada, Sept. 2nd, 1828, and departed this life at the home of her son, Hyatt David in St. Anne, on Saturday, April 10th, 1915 aged 86 years, 7 months, and 8 days.
She was united in marriage to Mr. William David on the 23rd day of Nov. 1847. They came to Ill. about 55 years ago. To this union of five children were born, two of whom, Ezra David and Mrs. Eliza Benjamin, preceded her in death. The other three, Hyatt David, of St. Anne; William David, of Peter, Oklahoma; and Mrs. Wesley Price, of Santa Rosa, Cal., together with 26 grandchildren, 48 great grandchildren, and two great great grandchildren, and her second husband, Paul Devenoges, whom she married a 11 years ago, on Sept. 3rd, 1904, are left to mourn the loss of a good, kind, loving wife and mother.
As soon as Mr. David knew of her last illness, just a week previous to her death, he had her brought to his home, where every care and attention was given that could possibly be had from loving hearts and medical skill, but she passed away last Saturday morn.
Funeral services were held at the Baptist church at 1:30 o'clock last Monday afternoon, Rev. Burden, officiating. Interment in the Beaver Creek Cemetery.