proof-genealogy.com
James

B. Stevenson
Birth Date:

March 24, 1906

Birth Location:

Aroma Township,
Kankakee County, Illinois

Death Date:

June 21, 1981

Death Location:

Watseka, Illinois

Burial:

Evergreen Cemetery
Chebanse, Illinois
Marriage

James Stevenson married Alice Haselow
on July 23, 1931 in Chebanse, Illinois.

Below: Jim and Alice as they appeared in the 1980s.
Children (in birth order)
1
Living Son
2
Richard
Stevenson
1933-1973
3
Living Son
4
Living Son
5
Living Daughter
6
Living Daughter
7
Living Daughter
8
Living Son
9
Danny
Stevenson
1952-2003
Notes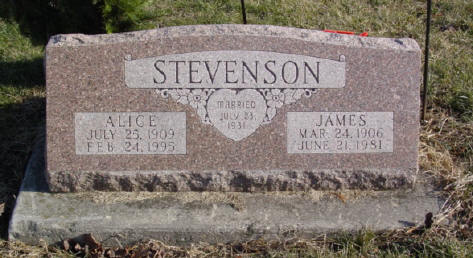 Above: Jim and Alice Stevenson's gravestone
in the Evergreen Cemetery at Chebanse, Illinois.
Below: Jim's obituary as it appeared in the
Kankakee Daily Journal, Kankakee, Illinois.