proof-genealogy.com
Ernest

Copke
Birth Date:

October 14, 1881

Birth Location:

Otto Township
Kankakee County, Illinois

Death Date:

June 16, 1951

Death Location:

Kankakee, Illinois

Burial:

Mound Grove Cemetery
Kankakee, Illinois
Half Sibling

Full Siblings

1
Henry
Hummel
1862-1924
1
Augusta
Copke
1867-1941
2
Lorena
Copke
1870-1927
3
Lena
Copke
1872-1948
4
Mary
Copke
1875-1953
5
Almina
Copke
1877-1949
6
Charles
Copke
1879-1960
7
Ernest
Copke
1881-1951
8
Mabel
Copke
1883-1920
Marriage
Ernest Copke married Mary Schwartz on December 24, 1905.
Mary died on August 13, 1929.
He later married (?) Case. This marriage ended in divorce.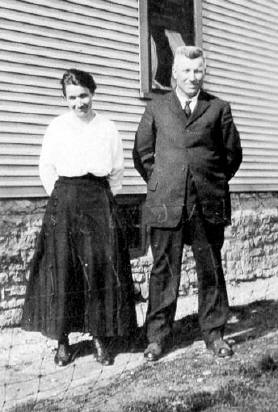 Notes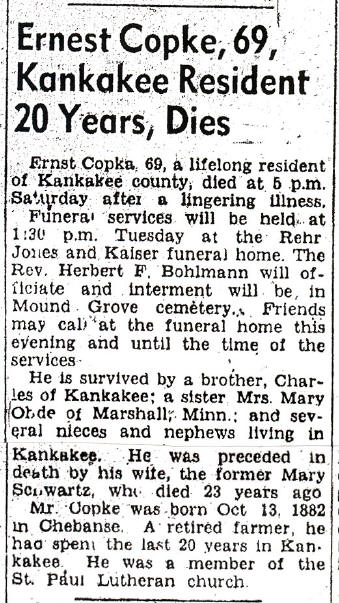 Based on comparisons to census information and the birth date of his sister Mabel Copke, it is believed that the birth year recorded on Ernest's obituary and gravestone are incorrect. It is believed that he was born in the year 1881 rather than 1882.