Below: A photo of John M. Burling (on the left). The
gentleman on the right is believed to be his brother Jim.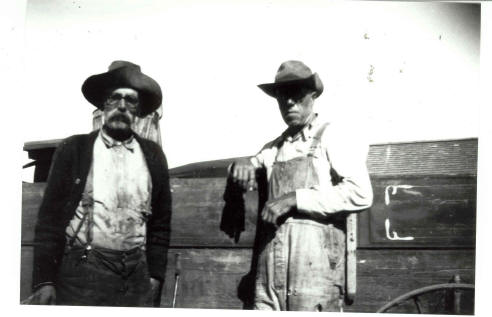 John M. Burling's obituary was printed in the Arlington newspaper.
John M. Burling was born in Kankakee County, Illinois, November 17, 1862, and died June 23, 1936, at the age of 73 years, 7 months and 6 days.
He came to Kansas with his parents in November, 1884. In 1884 he was married to Sidney Royer and to them was born one son, Robert of Goodland, Kansas. Later, on January 21, 1897, he was married to Blanche V. McGriff, who preceded him in death July 16, 1927. To this union were born thirteen children, seven of whom are living, five daughters and two sons. They are: Maude Frazier, Ames, Okla.; Nonnie Bush, Wichita, Kansas; Johnnie Burling, Penalosa, Kansas; Mulvina Thorne, Cunningham, Kansas; Joseph Burling, Ames, Okla; Josephine Thorne, Penalosa, Kansas; Francis Whitney, Wichita, Kansas. He is also survived by 35 grandchildren, 13 great grandchildren, and three brothers and one sister, James Burling and Sam Burling of Arlington, Will Burling of Little Rock, California, and Clara Carder, Langdon, Kansas.
The funeral service was conducted from the Arlington Methodist Church on Thursday afternoon, June 24, by the Rev. C. J. Dirk of Turon. Burial was in the Arlington cemetery.