proof-genealogy.com
Arthur

Clark
Birth Date:

March 1882

Birth Location:

Iroquois, Illinois

Death Date:

December 7, 1923

Death Location:

Joliet, Illinois

Burial:

Jones Cemetery (Beaver Creek)
Rural Papineau, Illinois
1
Sylvester
Clark
1878-1960
2
Arthur
Clark
1882-1923
3
Gertrude
Clark
1886-1928
Marriage
Arthur Clark married Francis Viola BanVard
on June 20, 1904, in Kankakee, Illinois.
Children (in birth order)
Not known.
Notes
In 1920, Arthur is living with his father Horace in Aroma Township, Kankakee County, Illinois.

This article appeared in the Edwardsville Intelligencer, February 18, 1914.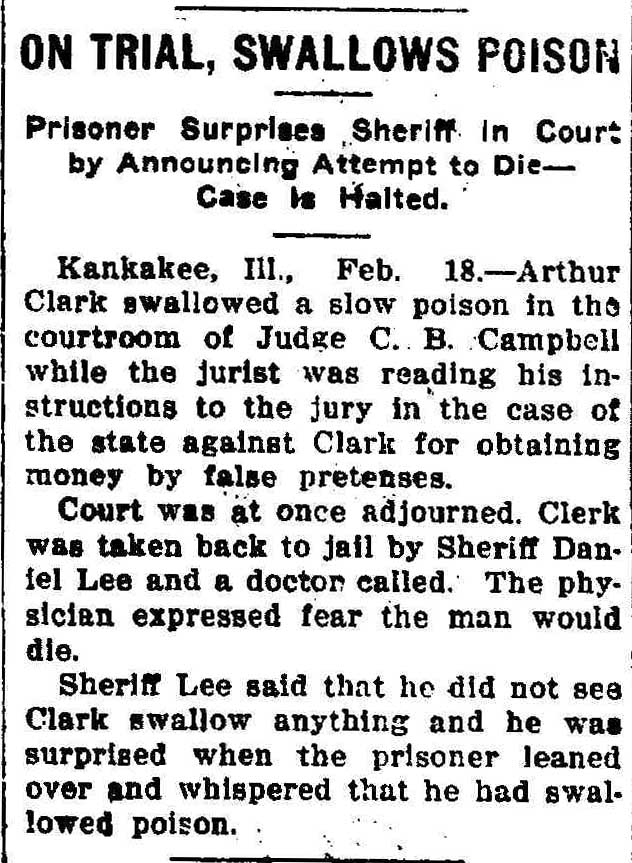 This death notice appeared in the Kankakee newspaper on December 7, 1923.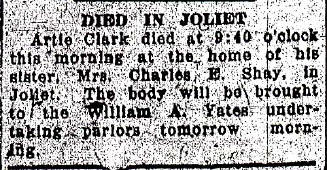 Arthur's body was interred in the mausoleum built by his mother, Nell Clark. After Nell's death, the mausoleum is supposed to have contained five bodies: Carrie Benjamin Langan, Sylvia Wadley Smith, Arthur Clark, Gertrude Clark Berchier, and Nellie Clark. In 1991, the deceased in the mausoleum were buried in unmarked graves, and today the mausoleum stands empty.