proof-genealogy.com
Heink

Hayung Willms
"Henry"
Birth Date:

October 24, 1833

Birth Location:

Negenmeerten, Ostfriesland, Germany

Death Date:

March 25, 1915

Death Location:

Iowa

Burial:

Lincoln Center Cemetery
Walnut, Iowa
Parents
Father
Not known.
Mother
Not known.
Marriage
Heink Willms married Jabe or Tabe Janszen in the late 1850s in Germany. They had three children.
After his first wife died, Heink Hayung Willms then married the widow Lucke Tebben Harms Eimen, on April 28, 1866 in Ochtersum, Ostfreisland, Germany. They had eight children.
Notes
Heink and Lucy Willms came to the United States in 1889. They settled first near Wiota, Iowa where his first wife's father, John Janszen, and Heink's son, Henry Heink and Anna Gerdes were living. He stayed there a short while before moving to Lincoln Township in Pottawattamie County, where he settled on a farm and raised his family. Then around 1905 he then moved to a farm in Cass County, Iowa.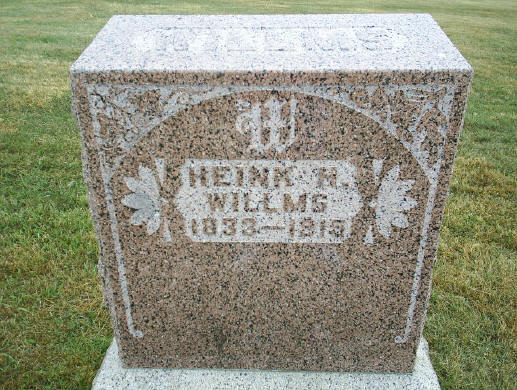 Sources